« Back to NewsDr. Sharon Bowers Inducted to Phi Beta Kappa!
April 18, 2016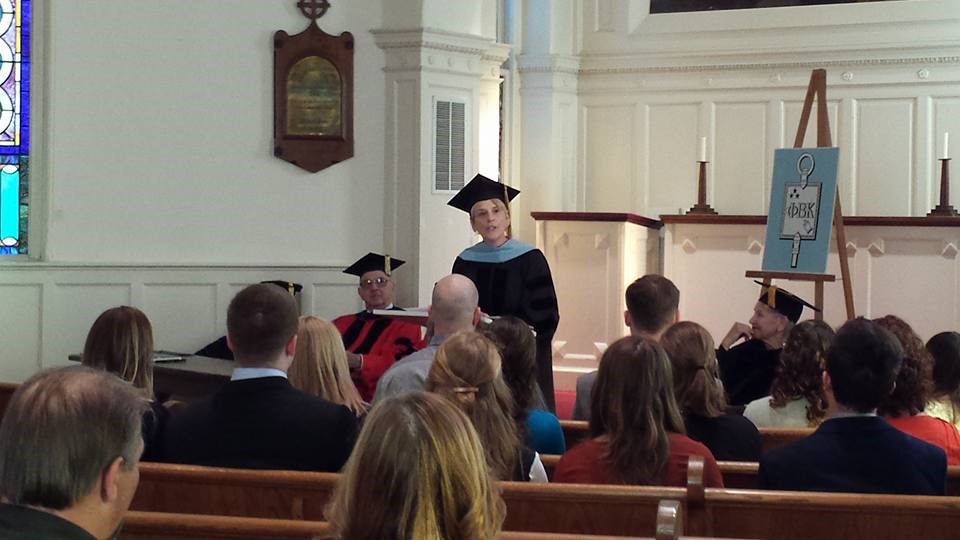 Dr. Sharon Bowers, NIA's Sr. STEM Education Specialist and Associate Director for NIA's Center for Integrative STEM Education, was inducted into Phi Beta Kappa at her alma mater, McDaniel College, on Sunday, April 3, 2016.
Founded at the College of William and Mary in 1776, Phi Beta Kappa celebrates excellence in the liberal arts and sciences and champions freedom of thought. Only about 10 percent of the nation's institutions of higher learning have Phi Beta Kappa chapters. And only about 10 percent of the arts and sciences graduates of these distinguished institutions are invited to join The Phi Beta Kappa Society for a lifetime membership which makes the invitation process one of the most selective in the nation.
Dr. Bowers was invited to deliver the induction ceremony keynote address titled "Kindling The Flame" which was inspired by Socrates' quote "Education is the kindling of a flame, not the filling of a vessel."
Sharon retired from Virginia Beach City Public schools after more than 30 years as a science educator where her work with children earned her several honors, including recognition as a Secondary Science Presidential Award Winner for Virginia. At NIA she focuses on developing professional learning experiences for pre-service and in-service educators. She has developed and teaches five graduate courses for McDaniel College that lead to a certificate in elementary STEM education and is a STEM andragogy consultant for Stevenson University. Sharon is also faculty for the Mickelson ExxonMobil Teachers Academy. For this work, she has received comprehensive training on the Next Generation Science Standards (NGSS) by some of the authors of NGSS.
Through her work with NIA, Sharon has developed resources that model best practice in the use of instructional technology to support 21st Century teaching and learning. She is the virtual world manager for the NASA's OPTIMUS PRIME Spinoff Promotion and Research and is the senior STEM education specialist for NASA eClips. Sharon earned her doctoral degree from Virginia Polytechnic Institute and State University December 2015 in Integrative STEM Education.
NASA POC: Dr. Kim Brush, kimberly.m.brush@nasa.gov, 757.864.6454
NIA POC: Sharon Bowers, Sharon.Bowers@nianet.org; 757.325.6780 or 757-619-2892.