Engineering Design Challenges
CISE is experienced in developing and executing inspiring engineering design challenges with both NASA and industry.
K-12 Educators -- Explore the links below to learn more about these challenges designed for your students.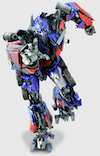 OPTIMUS PRIME challenges students to help share the benefits of NASA technologies. Through two new challenges, students are invited to join NASA Goddard and OPTIMUS PRIME in their mission to make Earth a better place—with the help of space!
Students research and design ways to protect astronauts from space radiation. Protecting astronauts from radiation on these distant travels is an important -- and very real -- problem that needs solving. NASA would like your help!
Government and Industry

--
Collaborate with CISE on a real-world design challenge, in the "real world" or within a "virtual world" where students build in a dynamic, virtual 3-D modeling and collaborative platform.
Students and teachers learn about Orion and the collaboration required between Lockheed Martin and NASA engineers to design, build and fly this next generation spacecraft.